What is Residential Care?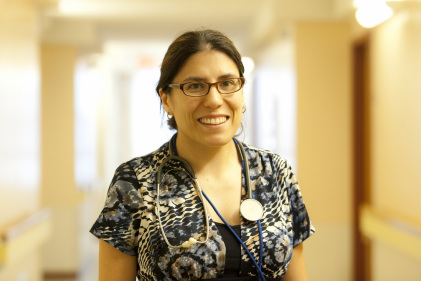 Residential Care or Complex Care consists of 154 residents who require personalized 24-hour nursing care and personal assistance.  Residents in Complex Care receive required help with bathing, dressing, personal hygiene, medications.  In addition we provide laundry service.
All rooms are single and furnished with a bed, night table, lamp and a small chair.  Some rooms have private bathrooms, most rooms share a toilet between rooms.  All bathing facilities are located in a central 'Spa' equipped with a shower and tub. Nutrition is monitored by a clinical dietitian and adapted to meet individual needs.
An active and vibrant therapeutic recreation department provides a range of programs to meet the social, physical, cognitive, emotional and spiritual needs of our residents and each floor has a complete care team including RNs/RPNs, LPNs, Care Aides, Housekeeping and  Physician.   Additional professional services provided onsite include:  podiatrist, dentist, physiotherapist/occupational therapist, audiologist, pharmacist, and optometrist/ophthalmologist.